Discover more from The DX Report
Digital Transformation • Digital Experience • Digital Enterprise: The research hub from The DX Institute. Insights and analysis for enterprise IT leaders on new enterprise tech, emerging practices, and fresh ideas for old challenges.
Accelerating digital transformation using the Medici Effect
King Abdullah University of Science and Technology's global IT summit in Saudi Arabia presents a model for digital transformation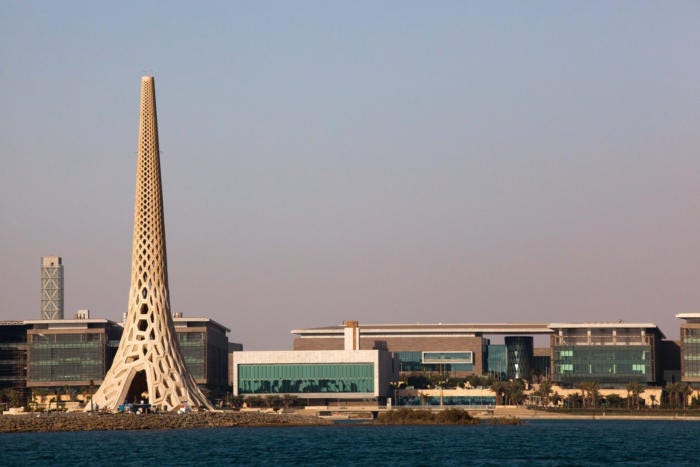 This article was originally published on CIO.com. King Abdullah University of Science and Technology's global IT summit in Saudi Arabia presents a model for digital transformation. The King Abdullah University of Science and Technology, known as KAUST, is a fascinating place. A literal and figurative oasis about an hour north of Jeddah, Saudi Arabia, KAUST is a tier-one research university with a mission to inspire discoveries that address global challenges and to serve as a beacon of knowledge that bridges people and cultures for the betterment of humanity. Last week, KAUST brought together nearly 100 leaders from industry, government, education and other research institutions to help it craft its forward-looking IT strategy. But more than just helping craft their strategy, this summit proved to be a model for executing a digital transformation.
A modern incarnation of the Medici Effect
Author Frans Johansson coined the term The Medici Effect in his 2004 book of the same name. The term describes the innovation that occurs when people of different cultures, backgrounds, disciplines and perspectives come together and interact. The term references Johansson's belief that the Medici family of Florence effectively, but unknowingly, kicked off the Renaissance by bringing together the greatest artists of the time and allowing them to interact and feed off of one another's work. As I walked around KAUST, I could not help but feel that I was witnessing a similar effect. Within its tightly controlled compound, more than 7,000 people from almost 100 countries interact on a daily basis. It seemed only natural, therefore, that the IT organization would use this same model of international collaboration and interaction to define its IT strategy. "The history of KAUST is one of collaboration and working with thought leaders from around the world," said John Larson, KAUST's CIO and organizer of the event. "Crowdsourcing the IT strategy, therefore, is both intellectually stimulating [for the IT team] and rewarding for the university."
Diversity sets the stage for digital transformation
While the objective of the event was to help define and refine KAUST's IT strategy, the process they used to do so also set the stage for the cultural transformation that is at the core of any digital transformation effort. "The first step to designing a digital transformation strategy is to create thought diversity," said Munir Bhimani, program leader for Cyber Security Response Services with GE Digital and a summit attendee. "The more diverse input you get, the better strategy you'll get." The most remarkable part of the event was watching the KAUST IT staff lead a series of highly interactive tabletop discussions with CIOs, CTOs and industry leaders from around the world. As they collectively shared ideas, explored and challenged KAUST's existing strategy and debated industry trends, you could watch the perspectives of both the invited dignitaries and the KAUST staff shift and grow. "Bringing together a diverse group of people of different backgrounds with diverse experiences and knowledge, we were able to look at where new ideas and emerging technologies are intersecting and may change the path of the future of IT," said Raed Al-Rabeh, manager of Saudi Aramco's Exploration and Petroleum Engineering Computer Center Operations. "We wouldn't have the opportunity to do this without this kind of event."
A cultural and personal transformation challenge
According to a recent MIT Sloan Management Review study, the three most important employee skills needed in the digital workplace (during and after a digital transformation) are a change-oriented mindset, digital and technology literacy, and strategic thinking. Moreover, the same study showed that those organizations further along on their transformational journey were five times more likely to have provided their teams the opportunities to develop these skills. The message from both this study and my personal observations studying organizations executing digital transformations is clear: Digital transformation is powered, first and foremost, by the transformation of your culture and the skills of your team. As any business or IT leader knows, however, the cultural and personal transformation are the hardest parts of a digital transformation journey. It's also critical to recognize that it's not about IT, but rather a transformational journey that transcends the organization—and this is where the KAUST event is most instructive.
A model for digital transformation
KAUST's summit brought together a diverse set of IT executives from both higher education and industry, along with top university researchers, technology vendors and industry thought leaders from all over the world. They also included almost their entire IT organization as participants and extended an open invitation to the whole KAUST community of researchers, faculty, students and administrators to join in. Even though the objective was to build out their IT strategy, this wasn't just a summit of IT folks. The result was stunning. Throughout the summit, a diverse cross section of senior leaders from technology vendors (including Cray, Microsoft, HPE and Intel), university researchers and administrators, and IT executives from leading organizations from around the world mingled freely with KAUST's IT and university community. In both structured sessions and during casual conversations, they explored the implications of technology trends and how KAUST could best leverage technology to support its mission as a world-leading research institution. It was the Medici Effect in action—and it will undoubtedly have a lasting impact on both KAUST's IT staff and the entire organization as they continue on their transformational journey. But perhaps more important, it's a model for every organization struggling to break through organizational inertia and cultural stagnation as they seek to transform. While you may not be able to replicate KAUST's global reach, every organization can replicate this process. Within every community there is a broad range of technology vendors, business leaders and IT executives who will welcome the opportunity to participate in your own "digital strategy summit"—you just need to ask them. The result will be just as powerful for your organization: changed mindsets and new perspectives, fresh ideas, and innovative strategies and a re-invigorated team ready to lead your organization into the digital future. [Disclosure: KAUST paid a speaking fee and covered my travel expenses for this event, a standard industry practice. As of the time of writing, none of the other organizations mentioned in this article are Intellyx customers.]