Discover more from The DX Report
Digital Transformation • Digital Experience • Digital Enterprise: The research hub from The DX Institute. Insights and analysis for enterprise IT leaders on new enterprise tech, emerging practices, and fresh ideas for old challenges.
Why BPM is now taking a central role in digital transformation
Driven by the need for speed and agility—beyond traditional needs of efficiency and optimization—organizations turn to BPM to drive digital transformation.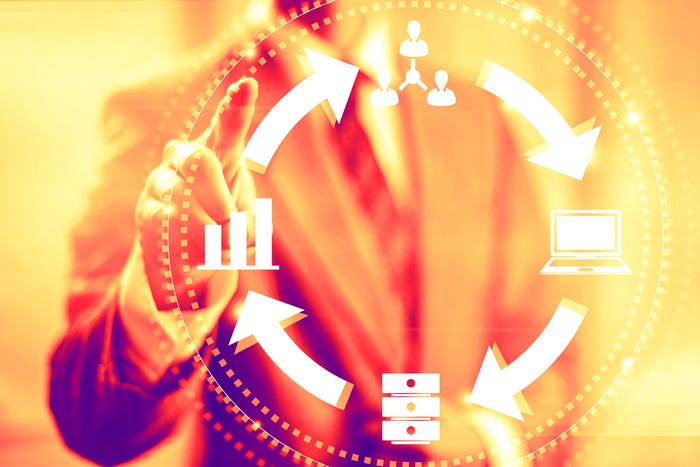 This article was originally published on CIO.com. Driven by the need for speed and agility—beyond traditional needs of efficiency and optimization—organizations turn to BPM to drive digital transformation. Business Process Management (BPM) has always been one of those disciplines that sounded great on paper but was difficult to realize in practice. It made sense that documenting, analyzing and managing the entirety of an organization's business processes would enable those organizations to increase operational efficiency. But for those brave organizations that gave it the "old college try"—particularly in the early days of BPM—the results were seldom spectacular. A new generation of BPM software, however, is changing this trajectory. Driven by the need for speed and agility, in addition to the traditional needs of efficiency and optimization, organizations are now turning to BPM as a key driver of digital transformation.
Evolution of the BPM industry
To say modern BPM tools look wildly different from their predecessors of only a few years ago would be a gross understatement. Like many disrupted industry segments, the BPM space has been under relentless pressure to transform itself and adopt a more modern incarnation. And, like other industries undergoing disruption, this period of rapid change has resulted in both confusion and opportunity. The modern BPM landscape is a mishmash of colliding segments with traditional BPM vendors, traditional Enterprise Content Management (ECM) vendors and new players from the burgeoning low-code space all overlapping and vying for a piece of the pie. But in the midst of the ensuing collisions and confusion, modern BPM tools of all flavors are finding their place as part of the enterprise's digital transformation toolkit.
The shift to agility
As organizations barrel into the digital era, the primary driver of BPM's new digital transformation role is the demand for organizational agility. Whereas BPM's historical value was in driving optimization and efficiency, it is its ability to deliver new levels of automation-fueled agility that is changing the game. "We are leveraging BPM tooling to take business processes that used to require expensive and lengthy one-off IT projects and [are now] engineering them into a configuration-driven platform," explained Kyle Pause, director of SaaS Platform Development at Pitney Bowes. "As Pitney Bowes develops and brings to market new SaaS offerings for our clients, we can now wire them to our customer onboarding business processes in a matter of hours instead of days or weeks."
Pause sees Pitney Bowes' use of Alfresco Process Services, powered by Activiti, as a key enabler of the firm's digital transformation initiative. Citing increases in development speed, solid execution and a quick learning curve, Pause said it gives Pitney Bowes the agility it needs to continue focusing on building innovative products for its customers.
Using BPM to uncover innovation
An essential part of the new BPM story is the mashup of traditional business process modeling, automation and monitoring with the new low-code movement, in which organizations can rapidly develop applications with little manual coding. It is the incorporation of this low-code approach, in combination with traditional BPM principles, that is the driving force behind BPM's agility enablement. The rapid development cycles that low-code approaches provide, however, are also enabling organizations to uncover innovation opportunities that they may have otherwise missed. "When we began using PMG Software, our plan was to simply replace some legacy tools and have the ability to maintain and develop things in-house," said Jon Jenkins, manager of IT Business Process Automation at German-based Kautex Textron. "But after we'd been at it for a while, we saw that we could start doing much more innovative things. It's also helping us pilot solutions and help customers understand their requirements faster without significant investments." Jenkins went on to share that these new, more innovative developments are also changing the way teams interact and communicate. The ease and speed with which they can now develop and test new automated business processes helps them bridge long-standing gaps between departments and simplify processes for both internal and external customers.
BPM as an enabler of digital transformation
The reason why agility, innovation and improved interactions are so important to enterprise organizations is that they are the critical enablers of digital transformation. The ability to deliver them in an organizational context is why BPM is starting to take a central role in some transformational efforts. "We are trying to build a digital transformation ecosystem," explained Sidney Fernandes, CIO of the University of South Florida. "It's not about buying a technology and saying that we have a 'digital transformation platform.' It's about changing the way people think." At first blush, it may seem odd to say that a BPM tool can change human attitudes and approaches, but Fernandes said their ability to use Appian's BPM platform to rapidly model, build and test automated business processes changes the game. "We pulled all the people that touch students together in one room and challenged them to build something that ensured better student outcomes," he said. "We were able to build something quickly that allowed them to pull information from different systems and break through the barriers. We delivered it in 10 weeks. But most importantly, they saw it as 'their system'—so we essentially built organizational change management into the development of the application itself." Organizations realize that creating this kind of transparency and enabling staff to break through barriers to see across the expanse of the enterprise are becoming critical capabilities in the era of digital transformation. "If you can clearly describe what you're doing in a simple way that the whole organization can see, you give the organization a platform that leads to innovation," said Ivan Seselj, CEO of Promapp, a cloud-based BPM provider. "Demystifying the unknown makes it easier to attack the status quo. Eliminating the mystery unleashes the imagination." The essence of digital transformation is a technology-powered re-orientation of organizations away from internally focused business processes and toward customer-facing engagement. But the fact remains that organizations are made up of intricate and intertwined collections of people, processes and their supporting technologies. The new generation of BPM tools offers organizations a way to turn that complexity into an advantage by creating transparency, enabling rapid development and testing, and providing a platform for those closest to the customer (or student or constituent) to stop worrying about technology and focus on solving the problems that matter most. Fernandes summed it up best: "As a lifelong IT professional, it was amazing to have a participant stand up and say, 'If I had this system when I was a student, I wouldn't have gotten lost.' That's what this is all about." [Disclosure: As of the time of writing, Appian and Promapp are Intellyx customers. None of the other organizations mentioned in this article are Intellyx customers.]